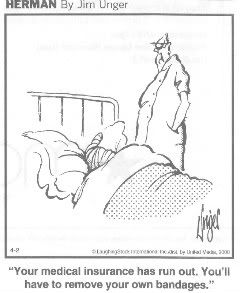 This is something that I wrote a few days before I was admitted to Renfrew Center, which is an in-patient eating disorder treatment facility. It was also the night that I almost committed suicide due to the stress of insurance and health care issues.

Today I am just trying to take each moment as it comes, but still, the emotion overwhelms me. I went this morning to have my lab work done. I have spoken with my supervisors at work, and now we are just dealing with the money and insurance issues. It is very hard not to feel like I'm a burden. This is going to wipe us out financially. I feel hopeful and hopeless all at the same time, which is very strange and frightening. I also feel such pressure from myself. My therapist says that there is no way that I can fail, but it is very hard from where I am sitting to see it that way. I do think about just ending all of this. I have never been in the place where I either want recovery so much, or I just want to give up. I don't have an in between place anymore. The middle is purgatory. I'm so tired... My heart is skipping... I need for it all to stop...

That night I was seconds away from taking a handful of pills when my oldest son happened to walk down the stairs just to tell me that he loved me. I felt such horrible guilt over our financial situation. I didn't want to be a burden. For so long I had been slowly starving myself to death and was finally able to reach out for help, only to be told that I wasn't sick enough.

Insurance would only cover a 21 day stay even though I was medically unstable and it was recommended that I stay for 60 days of treatment. Throughout my stay at Renfrew, it was a daily occurrence for young girls and women to be sent home against medical advice. Eating disorders are considered a mental illness, and of course, this country is not going to help the mentally disabled. How many people do we see living on the street who could live happy and productive lives if just given medical treatment?

For more information on eating disorders and medical treatment, go to Caringonline or Renfrew Center .


You shouldn't have to fix it all by yourself.