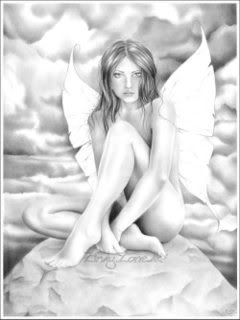 I feel so full, and full feels horrible, ugly, and the F word (

FAT

) that is not supposed to be a part of my vocabulary, but that is ridiculous, because it is a word that flies through my mind constantly.
My therapist has suggested that I look at what other feelings are present, and being the good patient that I am, I've done just that, and here is what I've come up with. My mom left yesterday, and I know it sounds silly, but I feel like a deserted child. I hate when people leave. Everyone is always leaving me. Even Dave's brain tumor is like the threat of abandonment that hangs over my head like a storm cloud ready to break open at any minute. I was pregnant with my first son before I was married. I know that Dave says that he would have wanted to marry me anyway, but it wasn't the way that I would have liked it to happen. My parents moved to Florida right after we were married, leaving me here with a husband and a new baby. I wasn't sure what in the hell I was doing, and I was terrified. It was time for me to grow up, but it was also a very lonely and frightening time in my life. Now my mom has left again, and she helped me so much. Those feelings of fear come back to haunt me. Fear that I will fail...but I refuse to give in to those fears. I've been keeping busy. I've walked on my treadmill the past few mornings, and today after I finished, there was a light rain outside, so I went and sat in my glider swing, and let the gentle rain soothe my mind. I have a gallon of paint left over from my bedroom, so today I'm going to paint the chair rail in my dining room with it. It should be a very pretty color in there. I'm really trying to stay focused on my health, and taking care of my mind and body, so I'm off to make myself some breakfast. I'm loving mango smoothies at the moment. Yum!
~Mango Smoothie Recipe~
1 c. fresh or frozen mangoes cut into chunks
1t. vanilla
1/2 c. ice
1/2 c. fat free vanilla yogurt
2 t. honey
1/3 c. vanilla soy milk
Blend on high for a few minutes, and enjoy:)