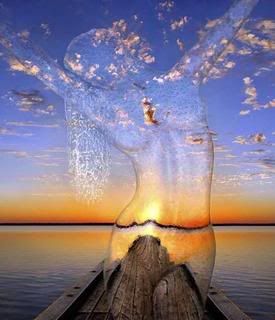 Sometimes I wonder why I post so honestly about how I'm feeling, but then I get a wise comment from someone, and it helps me to see things in a more positive light, and it is then that I'm glad that I was so honest. Yesterday, I was feeling bad about my body and the weight that I've gained. My beautiful friend, Theresa, left me this comment.~

"After a while it began to sink in. Now, I can look in the mirror and not think terrible things about myself. I can actually appreciate my body, not for what it looks like as that's not a concern so much anymore, but for what it can do... Even more importantly, for the woman I am inside it. That's what's important to me now. You are a wonderfully made woman, beautiful inside and out. You have a smile that lights up a room and a personality that makes it so easy to love you. Remember, your body is merely a vessel in which your soul is carried in the world. It is an amazing creation, able to withstand extreme situations, but still work appropriately. Try to think of it like that.....your heart beats as it should with no help. Your lungs make you breathe without your thinking about it.....that's pretty amazing stuff."

Our bodies are amazing. I've carried four beautiful children with this body...nourished newborn babies. I must remember this when I'm feeling discouraged. I know that there will be times that I forget, but as always, I will continue to try.