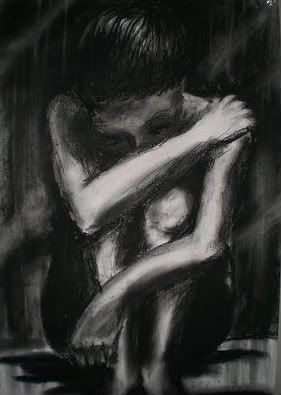 "The only way out is through
The faster we're in the better
The only way out is through ultimately"

Alanis Morissette

I'm not sure why I thought that I could just stop taking my medication, but three weeks ago, that is what I did. I was having some side effects from my dosage being increased, and it's also very expensive, so I just stopped. My therapist was not happy with this decision, but I really thought that I would be okay. I was wrong. The panic attacks and jumpiness returned, along with sleepless nights and flashbacks. What ultimately sent me back to the pharmacy though, was the draining loss of all hope. I'm tired of disappointing myself and others by continuing to sabotage every effort that I make to get well. I'm not sure what it is that I'm so afraid of, but I do know that I have to push past the fear instead of becoming paralyzed by the unknown. There is a comfort in slipping back to nothingness, but with each slip, I'm also finding a darkness that defies feeling empty and numb. My fear of what lies beyond the darkness is what will hopefully push me all the way through to the other side.