Here is a picture taken a couple of years ago of me with my mom and step-dad.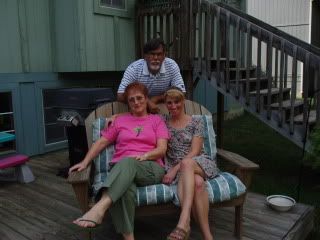 This is my mom and I.



It feels so great to have my parent's here. My mom and I are going shopping today, and we will of course do some baking. I love the long talks that we have, and I've missed both my mom and my step-dad so much. I hate even calling him my step-dad because he has been like a real father to me. He and my mom started dating when I was thirteen, and we have always gotten along so well. I'm very lucky to have a supportive and loving male influence in my life. It more than makes up for the father that I lacked. The only person that is missing right now is my younger brother. He was married last weekend, and I really wish that I could have been there for the wedding, but we can celebrate this summer when we go to Florida.
I'm feeling so wonderful right now, and the depression seems far away. I get weary of the fluctuation in my moods and frame of mind. I do hope that the increase in my medication will help with that.
I've been trying to slowly increase my food intake, and actually feel fairly good with my weight and body image at the moment. I'm not drinking at all, but I do wish that I could sit down and enjoy a glass of wine with my mom. I'm not sure that I could stop at one glass though, and therein lies the problem. I do feel like everything is falling into place right now. I have a job that I love, my family is gathered around me, I have a loving husband, and great kids. What more could I possibly ask for. The only thing that I can think of is more healing and recovery.
I thought that I wouldn't be blogging much, but as you can see, here I am, so stay tuned for more:-)
Much love to all of my blogging friends. I hope that everyone has a wonderful holiday season.