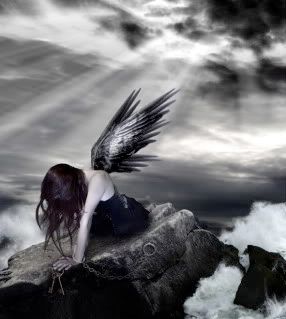 Where did this month go? The good days, the bad, the days that I don't remember. The days that I don't remember confuse and worry me. There are days that I'm outside of myself, looking in, as if I'm a stranger. I awaken from a nightmare, and the day slips away into a distant, safe place, and even I can't tell you where I go. There are so many ways to numb my feelings, and I have managed to find most of them. I also don't want them to be taken away, and one by one, I feel that they are being stripped away from me, without my consent. I know this isn't true, and that I have a say. I have a voice that I consistently try to silence.
Everyone at work notices that I don't eat, and all that I feel is indifference. I don't even care to hide it anymore. It's not that I don't eat. It's just that it is mostly when no one is watching, and although it's not much, I do eat. I feel a sense of embarrassment that I need to eat, almost apologetic. "I'm sorry," I say to myself, and I am. So sorry.
Tomorrow I have therapy, and already I can feel anger being directed at my therapist. I recognize that this is transference of my anger at others being projected on to her. I'm so uncomfortable with this that I'm squirming just thinking about it. I've been dreaming up different scenarios in my mind about ways to terminate our relationship. I've never wanted to push someone away so much in my life. Everything feels like it is closing in on me, my emotions boiling just beneath the surface, and I'm afraid. I'm afraid that I can't do this, and I'm afraid that it is going to happen anyway. Deep inside, there is an uncontrollable fury waiting to combust, and the word that scares me the most, is uncontrollable.