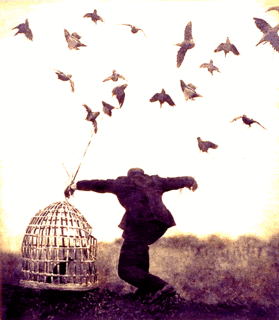 My therapist gave me this book called The Food & Feelings Workbook by Karen R. Koenig. I've been flipping through it, and to tell you the truth, I'm afraid to read it. God forbid, it might help me to get more in touch with my feelings! I notice that throughout the book, it asks you to stop, close your eyes, and ask yourself how you feel. I've tried this a few times, and nothing comes. I draw a blank. I hate to be asked how I feel because I'm afraid that the answer will somehow be wrong, as if my feelings aren't valid. The question overwhelms me, and I shut down. I've become more quiet and inward lately, but I'm still having trouble slowing my mind down. I've had a couple of panick attacks in the past two weeks. The tension at work on top of all of the therapy has me feeling anxious. Last night in my therapy session, we really worked on ways for me to learn to slow my mind down with some peaceful visualizations. We practiced in the session, and I walked out of there feeling more relaxed than I had in a long time. I think that I will be able to do these on my own when I start to feel stressed.
I've noticed at work and in my group sessions, that I tend to take on everyone else's problems, and make them my own, and then I'm left feeling overwhelmed. I'm definitely going to work on this. I think that I'm beginning to become more aware of ways in which I sabotage myself, and awareness is half the battle. I feel like with this awareness, I will be better able to control how I react to stressful situations.
Lastly, food is going much better. I'm still drinking meal replacement drinks, but sometimes I'm able to have food instead. I'm recognizing my hunger cues, and trying to eat when I feel hungry. It is hard, and definitely scary, but I feels like it's getting easier everyday. I know that everyday won't be easy, but I'll take the days that are!