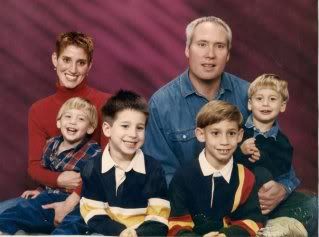 This was the first family portrait that we had taken twelve years ago. Look at my babies! They were so small, and the time has just flown by. I love everything about being a mom. Watching them grow and change into the wonderful young men that they are becoming. My love for them is overwhelming and unconditional.
You would think that having an eating disorder would have made it hard for me to be pregnant, but those were the times that I absolutely loved my body and felt the most beautiful. I took care of myself like no other time in my life, cherishing the new lives that I was carrying. They are the best part of my life!
I hope that everyone has a wonderful Mother's Day, especially my mom, who I miss and love very much.