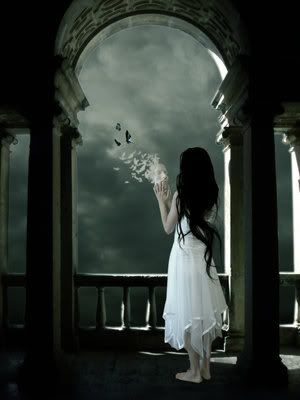 "Everything felt fragile and freshly come upon, but for now, at least, my depression had stepped back, giving me room to move forward. I had forgotten what it was like to be without it, and for a moment I floundered, wondering how I would recognize myself. I knew for certain it would return, sneaking up on me when I wasn't looking, but meanwhile there were bound to be glimpses of light if only I stayed around and held fast to the long perspective. It was a chance that seemed worth taking."
~ Daphne Merkin, "A Journey Through Darkness: My Life with Chronic Depression

I know what she means when she says, "For a moment I floundered, wondering how I would recognize myself." I feel like what I'm doing right now is trying to figure out who I will be without the eating disorder, and without this ongoing sadness. On the days when I feel like I'm moving forward, I can't help but worry that everything is going to fall out from under me. I seem to struggle so much with living in the present moment. Daily I have to remind myself to only focus on the here and now. You would think that I would have gotten it by now! I do see glimpses of light, and at times I do see how far I have come.
I had an appointment with my trauma therapist this morning, and we talked about the nightmares that I've been having about the rape. He thinks that through the dreams, I'm trying to resolve the missing pieces and scattered memories that I have. I find it difficult to ground myself after I awaken, and often it sends me into a dissociative episode. I feel so discouraged when this happens, and it also makes me feel ashamed. I'm embarrassed by what I view as a lack of self control. I have gotten so much better about using my grounding tools, but sometimes they still fail to keep me in the present, and that is very frustrating to me. I am safe now, but often in my mind, I don't feel very safe. Too often, I hide in my own shadows of fear, but I'm so tired of being afraid to live. I'm determined to get a hold on this and move forward.