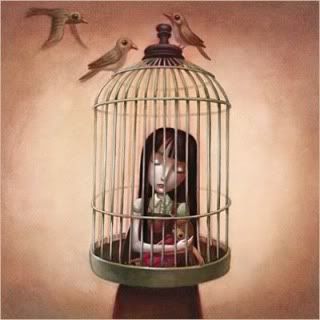 If I give in, I'm a failure with my greedy wants and needs. I stand in the kitchen, open cupboards, examine the calorie contents of foods that I may allow myself, only to be riddled with guilt for even the thought of eating. Even the oatmeal and banana, which is what I have been subsisting on each day for weeks has become a source of anxiety. Do I really need it? I eat the banana because without the potassium, my hands, feet, and legs cramp up. The symptoms of the eating disorder are reminders that my body needs fuel, and yet I still deny myself. Right now I'm reading a book called "Gaining" The Truth About Life After Eating Disorders, by Aimee Liu, hoping to find some secret to recovery. I read about the turning points of other women with anorexia, but all that most of them say is that they had to reach a point where they were just so tired of the tyrannical voices in their heads. I get tired too, but when will I get too tired? I rarely challenge that voice, instead I agree, I collude, I believe...

"You never come back, not all the way. Always, there is an odd distance between you and the people you love and the people you meet, a barrier, thin as the glass of a mirror. You never come all the way out of the mirror; you stand for the rest of your life, with one foot in this world and one in another, where everything is upside down and backwards and sad. And so I went through the looking glass, stepped into the nether world, where up is down and food is greed, where convex mirrors cover the walls where death is honour and flesh is weak. It is ever so easy to go.
Harder to find your way back."
~ Marya Hornbacher

These words were written by someone recovered, and I think to myself, "Why...What is the point?" Recovery is elusive, and then once you get there, the voice still whispers, cajoles, and taunts. For reasons unknown, it is important to be thin, to take up as little space as possible, to fly under the radar so that people expect as little from you as possible, because then there is no chance that you will disappoint anyone. Needing food is failure, so I starve, and of course I have convinced myself that I don't matter anyway. I'm fragmented, broken, and unable to be repaired...undeserving of the care that I receive, and yet I ache with the desire to be loved. I get comments here that ask me how I can do this to the people that I love, once again proving that I'm selfish. I don't want to hurt anyone. I don't want to hurt. In the past few weeks the nightmares and flashbacks have subsided with a sweet relief. The eating disorder numbs everything, and I forget how to feel because all that I can focus on is my driven need to control my body. If there wasn't a pay off, I wouldn't be where I am right now. I'm caged inside of a self imposed prison where only I hold the key.