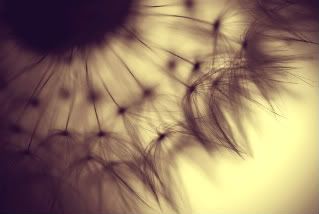 "Denial is an addiction," she explains, and all that I can do is nod my head up and down. I often do this... a habit I suppose, because the words have to languish, floating like the seeds of dandelions, planting their selves into full thoughts. Her eyes mirror my reflection back at me, the light behind her glowing like a halo, and I want it to not be the truth, because then I will have to face every hiding place. There are the voices in my head, daring me to speak, and I shrink inside of myself. The guilt and silence behind the curtain of my pain, I cower.

You barge through my doors, never knocking, and here I am, camouflaged behind a laugh and a smile. I tell you what you want to hear because I'm afraid that you will leave. It is inevitable, an enventuality one way or another.

She is the surrogate moving away from me. "Do you not want to come for awhile?" "Do you need a break?", and those words frighten me. Maybe I don't have anymore to say. Maybe I don't have anymore to say...