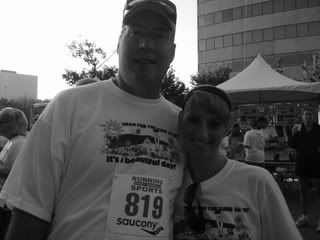 Make a Difference in the Fight Against Cancer!

On Sunday, September 7th, I will be participating in an event called Head for the Cure, a 5K run/walk that raises money for the Chris Anthony Brain Tumor Research Fund and Solace House. The Chris Anthony Brain Tumor Research Fund seeks to improve the outlook for adults and children with brain tumors through research. The Solace House is a center for grieving children and their families. My race to the finish line will be inspired by your generous donations to these worthy charities.
Save a Life, Make a Pledge

There are approximately 190,000 people diagnosed with a brain tumor in the United States each year and there are more than 120 types of brain tumors, which makes treatment complicated. The proceeds from this event will help fund much needed research into brain tumor causes and treatment. Additionally, it will help improve the quality of life for individuals living with a brain tumor today.
Head For The Cure was started in honor of Chris Anthony
, a beloved husband, father, and friend, who lost his battle with cancer at the young age of 37. I am running in honor of his life and his courage. Since I probably can't talk you into running with me, I have set up this online
fundraising page
so that you can make a pledge in my name.