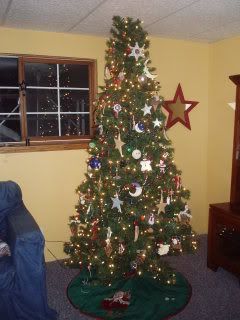 Well, our Christmas tree is decorated, and the stockings have been hung. I should be feeling festive, but I have a sore throat, and I'm losing my voice, so that is putting a damper on my mood. My husband thinks it's good that I'm losing my voice. He's so funny!

This day went by really fast, unfortunately. I hate that the weekends just seem to fly by. I have only nine more working days left before my Christmas vacation. I'm off from Dec. 19th-Jan.7th, and I can't wait! We don't have any plans for the holiday's. We are staying in town. I wish my brother and parents were coming to visit or we could visit them, but money is just too tight for everyone this year. Maybe that is why I'm having a hard time getting excited about the holidays. I'm going to miss my family, and especially my mom, because we always have so much fun baking together. Hopefully next year we can all be together.

I also started sorting through my poetry today. I'm trying to figure out what order I want the poems to be in for the manuscript. It is harder than I thought it would be, and a bit overwhelming. I have more poetry than I realized. I'm excited about it though. I think that it is really going to help me through the recovery process. I can't wait to print out a finished manuscript to give to my therapist so that she can work on the photographs. I'm really glad that she pushed me to work on this project because I had kind of let the idea go. Mostly because I'm not sure that my writing is good enough to be published, but even if I self publish it, I think it will feel good to see it in book form. It will be something tangible that came out of this recovery journey, and maybe it will give me some closure.

Well, I've rambled on enough for tonight. I think the rest of the night I'm just going to relax, knit, and watch t.v. Hope everyone has a peaceful evening.